Dato' Sri Dr Wee (centre) signing the plaque, accompanied by Nor Hizwan (left) and Prof Ewe (right)

The campaigned was launched with a tree planting gimmick and plaque signing by Deputy Minister of Plantation Industries and Commodities Dato' Sri Dr Wee Jeck Seng, accompanied by CEO of MRC Nor Hizwan bin Ahmad, and UTAR President Ir Prof Dr Ewe Hong Tat. Also present were MRC Board Members Leong Cheok Keng, Dayang Rusimah @ Raynie Datuk Hj Mohd Din, MRC Senior Director of Sustainability Mohd Fauzi bin Mohd Ghazali, MRC Deputy Director of Sustainability Shahrul Izad bin Yahya, UTAR Council Member Mr Hew Fen Yee, UTAR Vice President for Student Development and Alumni Relations Prof Dr Choong Chee Keong, UTAR Dean of Faculty of Science Assoc Prof Dr Lim Tuck Meng, Founders of SEEDS Malaysia Abdul Razak bin Abdul Aziz and Intan Siti Zarinah Jailani, Operating partner of SEEDS Malaysia Rashdan Rashid, Forest Officer of Central Kinta/Manjung District Forest Office Khairul Nizam bin Mohamed, Han Culture Centre Malaysia (HAN) President Dato' Goh Hin San, HAN Vice President Datin Lee Ngeok Lan, HAN Managing Director Mini Goh, HAN General Manager Alex Yong, senior management and administrators of MRC and UTAR respectively, and participants.

The '1 Student 10 Trees' campaign is supported by the Ministry of Plantation Industries and Commodities, Ministry of Higher Education, and Majlis Daerah Kampar and Malim Nawar, in collaboration with the Tropical Rainforest Conservation & Research Centre. It was co-organised by Seeds Malaysia, and Persatuan Lestari Alam Malaysia.

Aimed at cultivating values and ethics of conserving the environment besides being part of the government's 100 Million Trees campaign, the '1 Student 10 Trees' campaign involved more than 250 students from UTAR, representatives from selected NGOs and members of the public in the planting of 2,022 indigenous trees, which is also in line with Malaysia's pledge in making its land area covered with 50% forest and trees. The trees are planted within the UTAR's Agricultural Park will be maintained by the university as an arboretum for the future generation.

The launch of the campaign was also expected to encourage more universities, colleges and higher learning institutions nationwide to take on this bold step of possibly reaching 22 million trees to be planted within the next eight years (2022 - 2030). The campaign also hope to create more awareness on pertaining issues such as water conservation, flood management, wildlife, biodiversity and pollution by adopting the United Nations' 2030 Agenda for Sustainable Development and contribute to the 17 Sustainable Development Goals (SDG) which address economic growth, social inclusion, and environmental protection.

In his opening remarks, Nor Hizwan Ahmad said that MRC has always taken a proactive stance towards sustainability as it strives to be a responsible government agency that upholds the highest standards of governance and ethics, promotes sustainable business and practices by limiting the negative impact of its business operations on the environment, as well as building and maintaining strong relationships with our stakeholders.

"We are guided by the six sustainability pillars, and the fourth pillar, Environmental Development, exemplifies MRC's commitment to advocate and enhance awareness in preserving the environment. As an agency under the Ministry of Plantation Industries and Commodities (MPIC), we must contribute to the creation of a more sustainable society by making constant efforts to improve the way we operate by focusing on the economic, environmental, social and governance (EESG) principles."

"MRC has a bigger role now. Apart from strengthening the export and domestic market of Malaysian rubber products, we are enhancing the efforts to improve industry's overall sustainability by advocating awareness, while preserving the environment as well as promoting renewable energy and ensuring social compliance," he added.

Prof Ewe thanked all parties of the campaign for the success of the meaningful collaborative project that aimed to promote a greener and more sustainable environment in support of the nation's 100 million trees campaign and the government's pledge for more forests in the country.

He said, "As a university, we are committed to educating our students and staff on conservation and sustainability for future generations in support of the government's vision and the United Nation's SDGs. UTAR has also taken steps to create awareness for a greener environment and instil the knowledge and habits towards responsible consumerism and good habits among its staff and students."

He added, "UTAR also supports initiatives towards net zero carbon emissions by promoting the planting of more trees, encouraging cycling on campus and moving towards the use of solar energy as a natural source of energy in its Kampar Campus. We are indeed thankful to everyone for this campaign which will be a reminder to our staff and students to keep our campus green."

Dato' Sri Dr Wee emphasised that forest preservation is one of the main agendas of Malaysia in the efforts to ensure the sustainability of our forest and to improve its capacity to absorb greenhouse gases.

"Greenhouse gases is one of the known main cause of climate change and with more trees planted, more greenhouse gases can be absorbed. As an effort by Malaysia towards to the global initiative of forest preservation, the Malaysia government has launched the 100 Million Trees Campaign in January 2021, as part of the programme to make Malaysia greener. Today, with the planting of 2022 trees, we mark this as start to our journey towards making Malaysia greener," said Dato' Sri Dr Wee.

He added, "The Ministry of Plantation Industries and Commodities has also recently launched the National Agricommodity Policy (2021-2030) (DAKN2030) with an ambitious vision: Advancing Agricommodity for Sustainability and Shared Prosperity. DAKN2030 emphasised the importance of achieving balance in the long run, and among the many aspects that are focused includes social and environment, economy and stakeholders' interest. DAKN2030 will also be used as a reference for the country's industrial commodity in the aspects of Environment, Social, and Governance (ESG), and as an effort towards achieving the 2030 agenda of Sustainable Development Goals (SDGs). SDG 13: Climate Action and SDG 15: Life on Land are the most relevant to today's context. The ministry is also increasing its effort to tackle the issue of climate change and its effects. The ministry is working on managing various plantations and usage of land to limit deterioration, supporting the efforts of biodiversity management, and minimising the conflicts between human and wildlife."

At the end of the speech, Dato' Sri Dr Wee re-emphasised the importance of tree planting to restore the ecosystem and the environment, as well as an effort to preserve the forest so that the future generation will inherit a better world.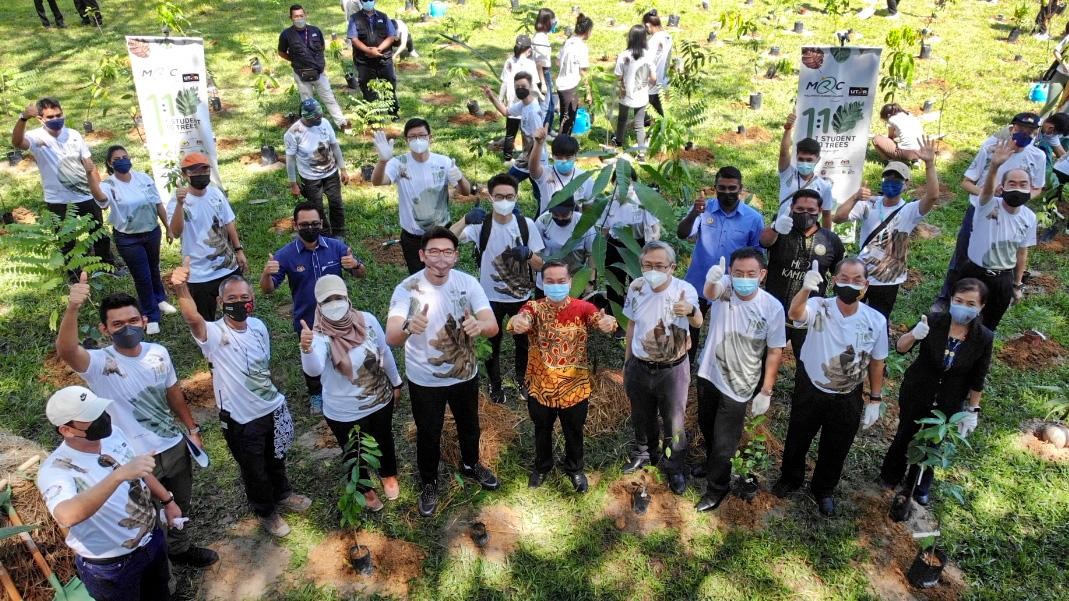 Front row from second left: Mohd Fauzi, Shahrul Izad, Abdul Razak, Dayang Rusimah, Nor Hizwan, Dato' Sri Dr Wee, Prof Ewe, Leong, Dato' Goh, and Datin Lee, accompanied by Prof Choong (back, sixth from left), Dr Lim (back, far right), and Mr Hew (behind Dr Lim), with staff and participants